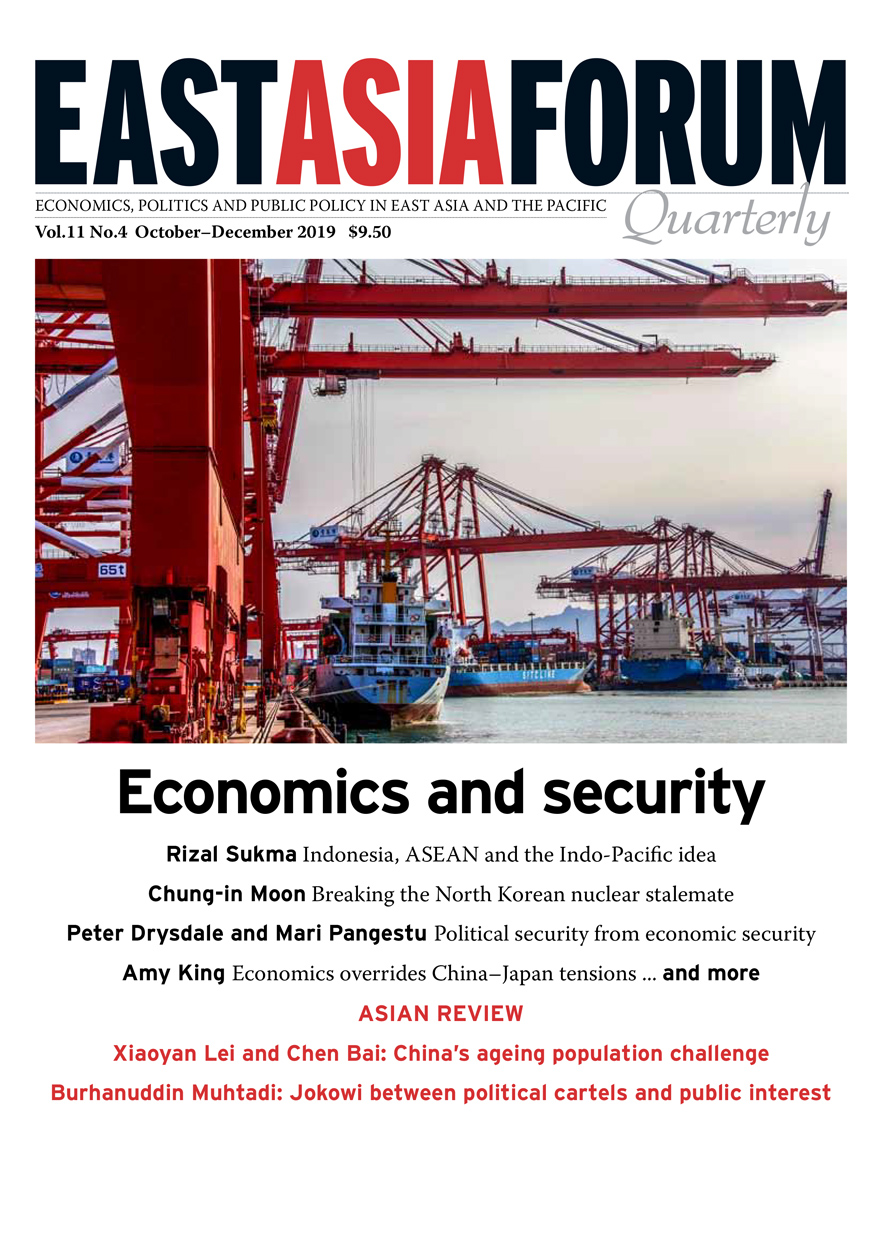 East Asia Forum Quarterly: Volume 11, Number 4, 2019
Not available for purchase
Please read Conditions of use before downloading the formats.
Description
The idea that countries can pursue prosperity and security as separate streams of the national interest has passed. Economics and security have always been enmeshed, although we assumed otherwise. The nature of the relationship between the two is changing fast. The narratives that surround the change find it difficult to keep up with the facts.
The world has become more multipolar, with remarkable growth outside the established powers in the North Atlantic. And big countries—not just the United States and China, but other G20 members like Brazil, Turkey, Russia and the United Kingdom—have become more nationalist and brazen in asserting what they perceive to be their economic and security interests over those of others. The US–China relationship is increasingly characterised by strategic competition in both the economic and security domains.
At the same time, digital technology has not just transformed products, firms and markets, it has opened them to cyber disruption and attack, resulting in a cross-over of security into the economic and social domains.
This issue of the East Asia Forum Quarterly explores what is happening, why and how to respond to the change. These essays argue for careful thought and active engagement by governments, business and the broader community. Genuine dialogue and problem-solving between the economic and security parts of universities and government is a good first step to frame the problem broadly, keep perspective and find solutions.
East Asia Forum Quarterly grew out of East Asia Forum (EAF) online, which has developed a reputation for providing a platform for the best in Asian analysis, research and policy comment on the Asia Pacific region in world affairs. EAFQ aims to provide a further window onto research in the leading research institutes in Asia, and to provide expert comment on current developments within the region. East Asia Forum Quarterly, like East Asia Forum online, is an initiative of the East Asia Forum and its host organisation, the East Asian Bureau of Economic Research in the Crawford School of Economics and Government in the College of Asia & the Pacific at The Australian National University.
Details
ISSN (print):

1837-5081

ISSN (online):

1837-509X

Publication date:

Nov 2019

Imprint:

ANU Press

DOI:

Journal:

Disciplines:

Countries:
Other publications that may interest you