Michelle Antoinette
Michelle Antoinette is a researcher of modern and contemporary Asian art, currently affiliated with the Centre for Art History and Art Theory at The Australian National University (ANU). She was recently an Australian Research Council (ARC) Postdoctoral Fellow (2010–2013) and she has been convenor and lecturer at ANU for courses on Asian and Pacific art and museums. Her ARC project, 'The Rise of New Cultural Networks in Asia in the Twenty-First Century' (DP1096041), together with Caroline Turner, explored the emergence of new regional and international networks of contemporary Asian art and museums. Her ongoing research focuses on the contemporary art histories of South-East Asia on which she has published widely including her book, Reworlding Art History: Encounters with Contemporary Southeast Asian Art after 1990 (2014).
https://orcid.org/0000-0002-4964-0207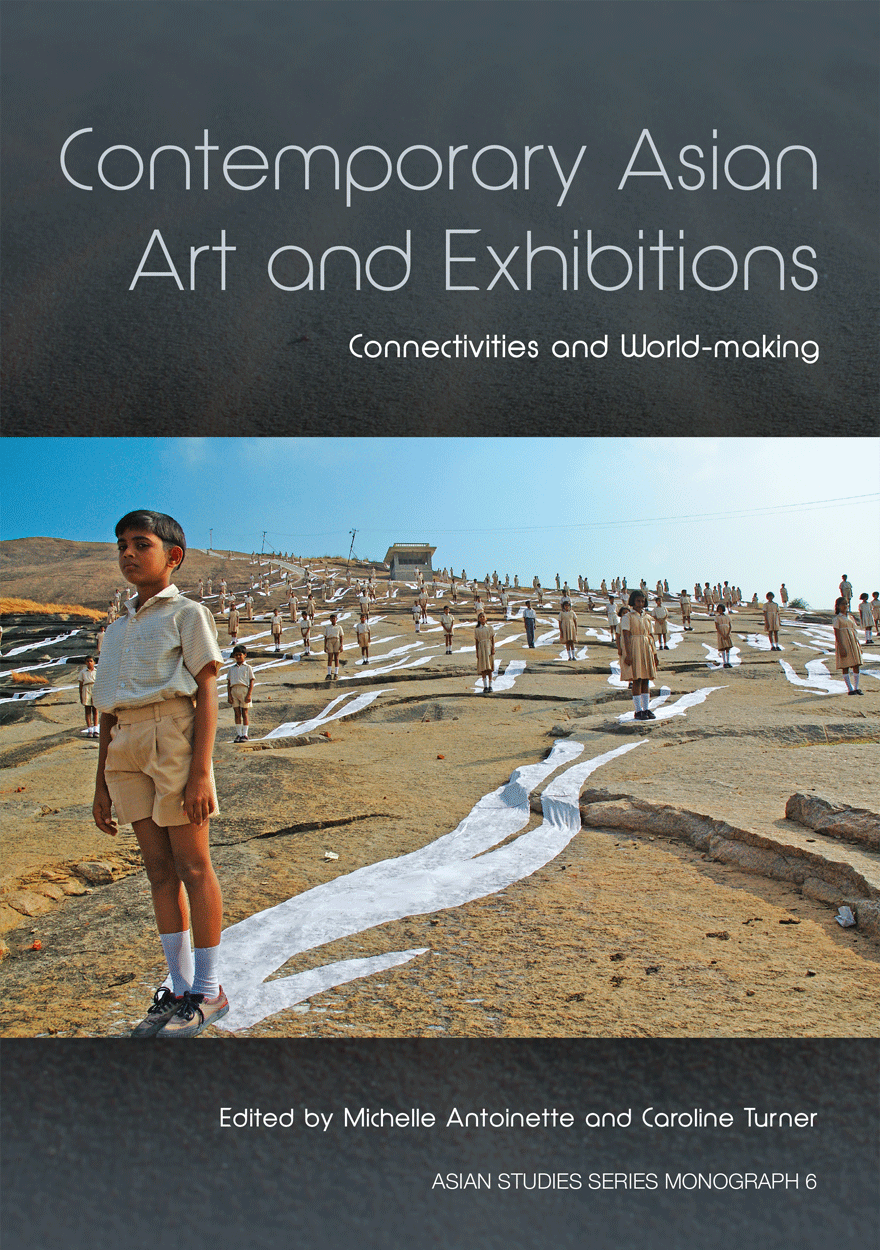 Connectivities and World-making
Publication date: October 2014
"… a diverse and stimulating group of essays that together represents a significant contribution to thinking about the nascent field of contemporary Asian art studies … Contemporary Asian Art and Exhibitions: Connectivities and World-making … brings together essays by significant academics, curators and artist working in Australia, Asia and the United Kingdom that reflect on contemporary art in the Asia-Pacific region, and Australia's cultural interconnections with Asia. It will be a welcome addition to the body of literature related to these emergent areas of art historical study. " — Dr Claire Roberts, Senior Lecturer in Art History, University of Adelaide This volume draws together essays by leading art experts observing the dramatic developments in Asian art and exhibitions in the last two decades. The authors explore new regional and global connections and new ways of understanding contemporary Asian art in the twenty-first century. The essays coalesce around four key themes: world-making; intra-Asian regional connections; art's affective capacity in cross-cultural engagement; and Australia's cultural connections with Asia. In exploring these themes, the essays adopt a diversity of approaches and encompass art history, art theory, visual culture and museum studies, as well as curatorial and artistic practice. With introductory and concluding essays by editors Michelle Antoinette and Caroline Turner this volume features contributions from key writers on the region and on contemporary art: Patrick D Flores, John Clark, Chaitanya Sambrani, Pat Hoffie, Charles Merewether, Marsha Meskimmon, Francis Maravillas, Oscar Ho, Alison Carroll and Jacqueline Lo. Richly illustrated with artworks by leading contemporary Asian artists, Contemporary Asian Art and Exhibitions: Connectivities and World-making will be essential reading for those interested in recent developments in contemporary Asian art, including students and scholars of art history, Asian studies, museum studies, visual and cultural studies.
The World and World-Making in Art
Publication date: July 2013
Humanities Research is an internationally peer-reviewed journal published by the Research School of Humanities at The Australian National University. The Research School of Humanities came into existence in January 2007 and consists of the Humanities Research Centre, Centre for Cross-Cultural Research, National Europe Centre and Australian National Dictionary Centre. Launched in 1997, issues are thematic with guest editors and address important and timely topics across all branches of the humanities.