Please note that due to the current Covid-19 lockdown measures, we are not able to fulfil international orders at this time. We apologise for any inconvenience.
Caroline Turner
Dr Caroline Turner was Deputy Director of the Humanities Research Centre from 2000-2006. Prior to taking up this appointment in January 2000 she spent 20 years as a senior art museum professional. As Deputy Director of the Queensland Art Gallery she organised and curated over 60 international exhibitions, including Matisse with works from 50 collections worldwide, which toured Australia in 1995 and had audiences of over 300,000. In the mid-1980s Turner also began working in the area of contemporary Asian and Pacific art, organising the first exhibition of contemporary Japanese art for an Australian museum in 1989.
Dr Turner was co-founder and Project Director for nearly ten years for the Asia-Pacific Triennial Project which, over three exhibitions in 1993, 1996 and 1999, attracted audiences of 60,000, 120,000, and 155,000, Turner was also the scholarly editor of the three major catalogues and the book Tradition and Change: Contemporary Art of Asia and the Pacific, University of Queensland Press, 1993 and has written extensively on contemporary Asian art as well as lecturing on this subject internationally.
Her latest book of essays Art and Social Change: Contemporary Art of Asia and the Pacific, Pandanus Press 2005 is the most up to date survey of the dramatic developments in Asian and Pacific contemporary art in the last decade. She is currently heading a research project on an ARC Discovery grant entitled "The Limits of Tolerance" which explores the links between art and human rights and is also working on several projects related to museums and museology.
The Australian Government appointed Dr Turner to the Australia-China Council in the 1980s and the Australia-Indonesia Institute in the 1990′s. At the HRC she has organised numerous conferences and research projects and she has also been editor of the HRC/CCR Journal Humanities Research since 2000. She has been recently appointed to the Board of Cultural Facilities Corporation at the ACT Government.
Dr Turner is the Convener of the Arts and Human Rights Conference.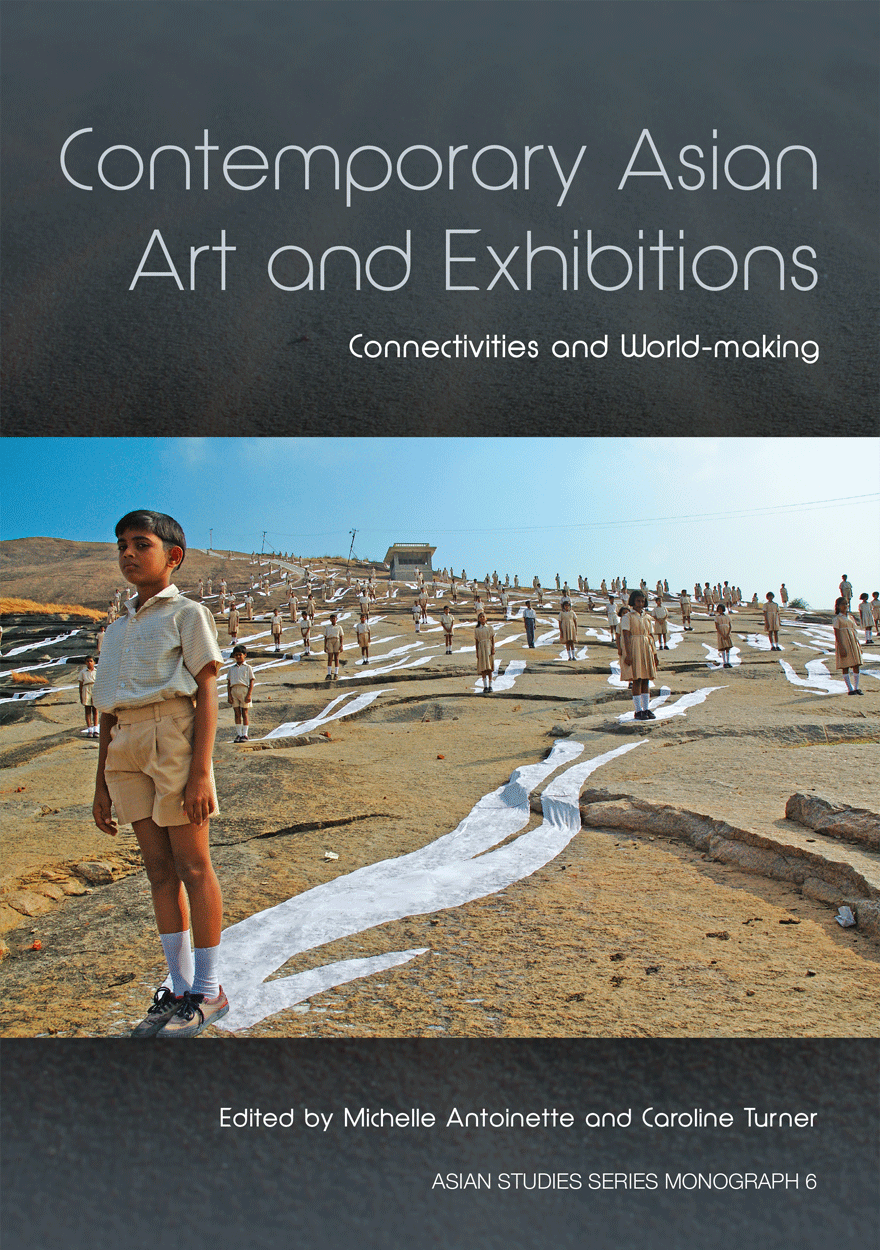 Connectivities and World-making
Publication date: October 2014
"… a diverse and stimulating group of essays that together represents a significant contribution to thinking about the nascent field of contemporary Asian art studies … Contemporary Asian Art and Exhibitions: Connectivities and World-making … brings together essays by significant academics, curators and artist working in Australia, Asia and the United Kingdom that reflect on contemporary art in the Asia-Pacific region, and Australia's cultural interconnections with Asia. It will be a welcome addition to the body of literature related to these emergent areas of art historical study. " — Dr Claire Roberts, Senior Lecturer in Art History, University of Adelaide This volume draws together essays by leading art experts observing the dramatic developments in Asian art and exhibitions in the last two decades. The authors explore new regional and global connections and new ways of understanding contemporary Asian art in the twenty-first century. The essays coalesce around four key themes: world-making; intra-Asian regional connections; art's affective capacity in cross-cultural engagement; and Australia's cultural connections with Asia. In exploring these themes, the essays adopt a diversity of approaches and encompass art history, art theory, visual culture and museum studies, as well as curatorial and artistic practice. With introductory and concluding essays by editors Michelle Antoinette and Caroline Turner this volume features contributions from key writers on the region and on contemporary art: Patrick D Flores, John Clark, Chaitanya Sambrani, Pat Hoffie, Charles Merewether, Marsha Meskimmon, Francis Maravillas, Oscar Ho, Alison Carroll and Jacqueline Lo. Richly illustrated with artworks by leading contemporary Asian artists, Contemporary Asian Art and Exhibitions: Connectivities and World-making will be essential reading for those interested in recent developments in contemporary Asian art, including students and scholars of art history, Asian studies, museum studies, visual and cultural studies.
The World and World-Making in Art
Publication date: July 2013
Humanities Research is an internationally peer-reviewed journal published by the Research School of Humanities at The Australian National University. The Research School of Humanities came into existence in January 2007 and consists of the Humanities Research Centre, Centre for Cross-Cultural Research, National Europe Centre and Australian National Dictionary Centre. Launched in 1997, issues are thematic with guest editors and address important and timely topics across all branches of the humanities.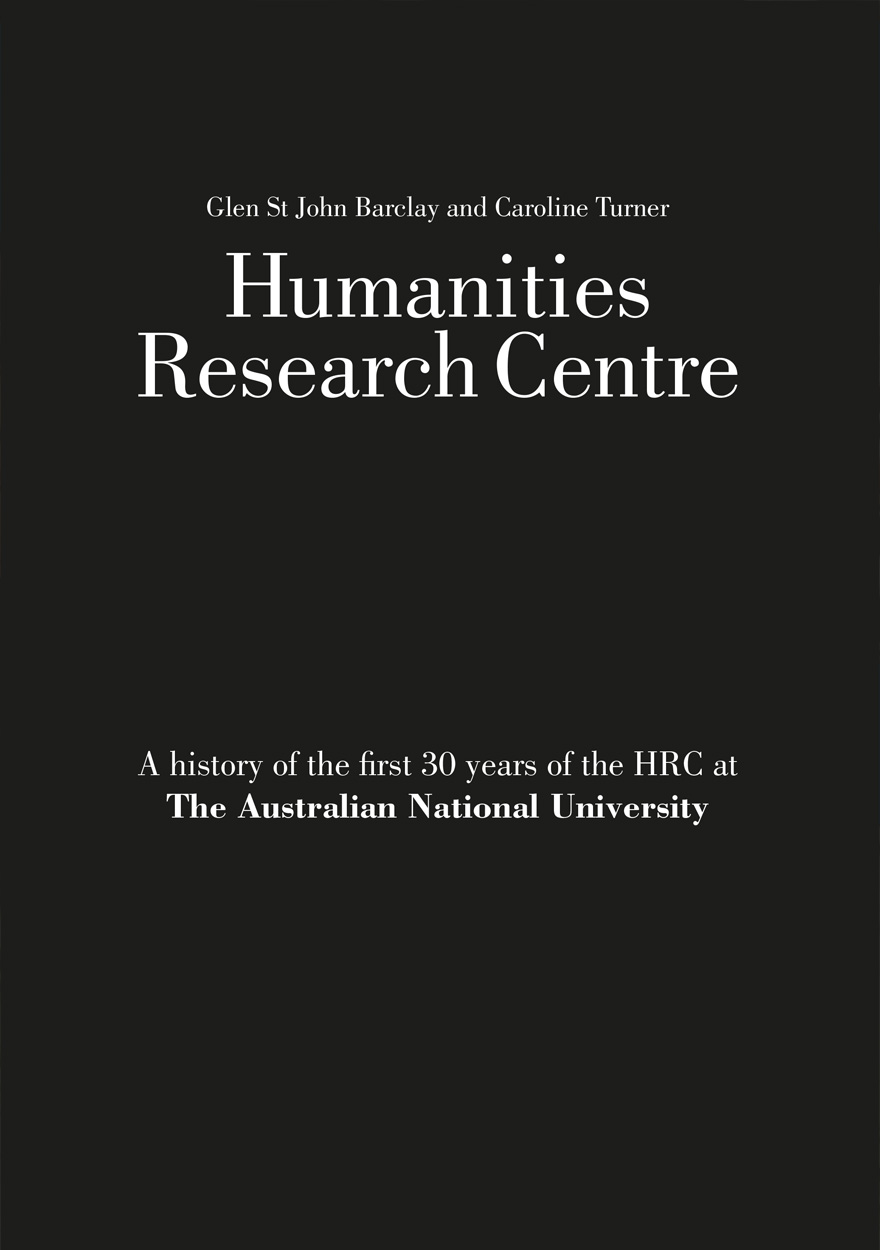 A history of the first 30 years of the HRC at The Australian National University
Publication date: May 2004
'This book may claim to be no more than a history of the HRC at ANU. It is, of course, much more than that. It is certainly an examination of the role and predicament of the humanities within universities and the wider community, and it contributes substantially to the ongoing debate on an Australian identity.' Malcolm I. Thomis