Ian Pulsford
Ian Pulsford is a specialist in protected areas and linking landscapes with 36 years experience in conservation policy, planning and practice with the New South Wales Government, including the selection, design and management of protected areas and large landscape connectivity corridors.
Ian has been an author of more than 18 published articles and book chapters. He has been an editor of two books and authored numerous government and consultancy reports, conservation plans, strategies and publicity materials. Ian's most recent contributions as a chapter author and editor is Linking Australia's Landscapes published by CSIRO in 2010 which draws out lessons from a variety of established and new connectivity conservation initiatives from around Australia, and is complemented by international examples. In this book he co-authored a chapter on Connectivity Conservation in the Great Eastern Ranges of Australia.
During the 1990s and later Ian was the Zone and Divisional Manager for Conservation Programs in south-east NSW with the National Parks and Wildlife Service and Department of Environment Climate Change and Water (now the Office of Environment and Heritage) and from 2007 to 2010 was the founding manager of the Great Eastern Ranges Initiative, Australia's first continental-scale conservation corridor. He is now an independent consultant and member of the IUCN World Commission on Protected Areas – Mountains and Connectivity Conservation theme. Ian has served on various government committees, including as a member of an expert panel advising the Australian Government on the draft National Wildlife Corridors Plan, a Ministerial appointee on the Southern Catchment Management Board and has chaired several committees.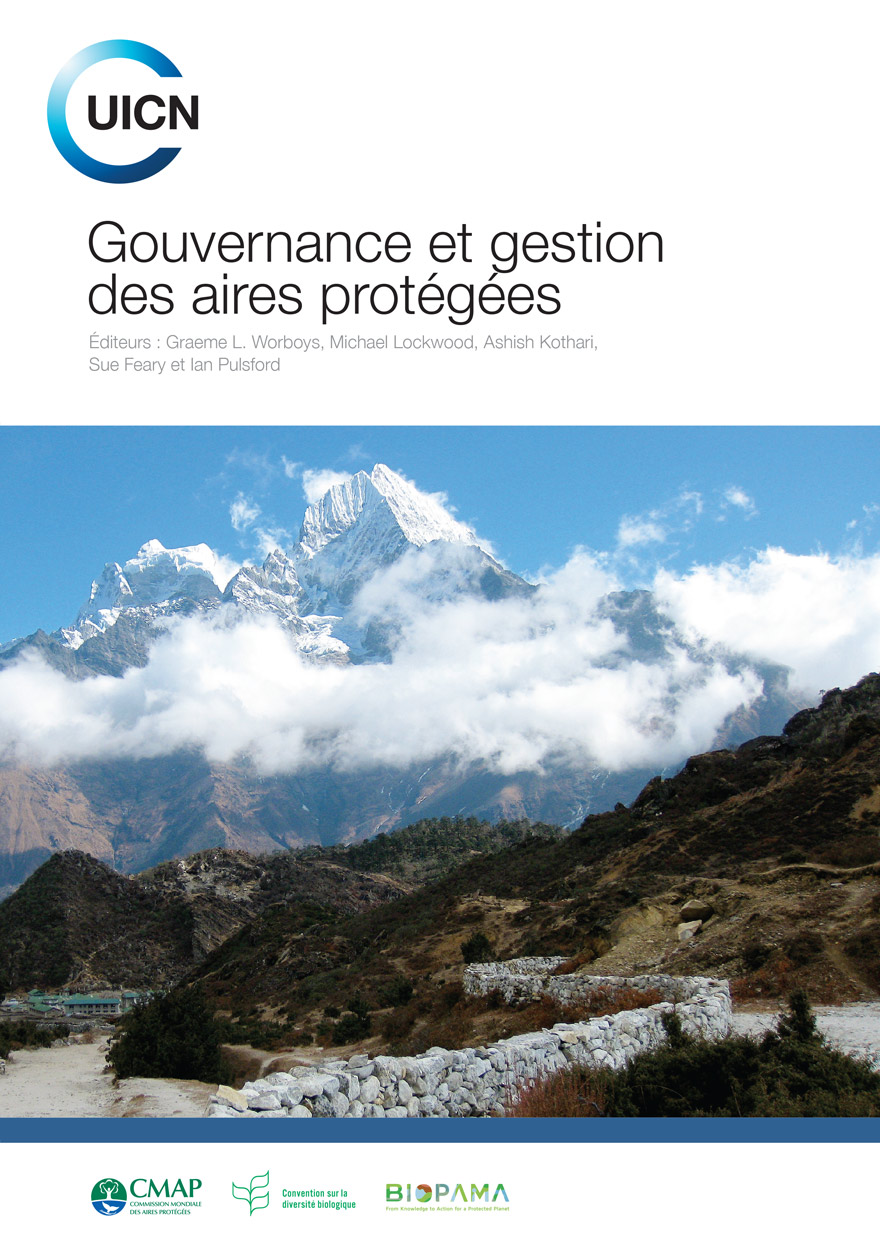 Le livre "Gouvernance et gestion des aires protégées" est une compilation de textes originaux, d'études de cas et d'exemples du monde entier. Il s'appuie sur une vaste littérature et sur les connaissances et l'expérience de nombreux acteurs des aires protégées. Ces derniers y présentent les connaissances actuelles et les idées innovantes des diverses branches de la gouvernance et de la gestion des aires protégées. Ce livre constitue un investissement dans les compétences et les connaissances des hommes et, par conséquent, dans la gouvernance et la gestion des aires protégées dont ces hommes sont responsables. Le succès mondial du concept d'aire protégée réside dans la dualité de sa vision : protéger, sur le long terme, à la fois le patrimoine naturel et le patrimoine. Les organisations telles que l'Union internationale pour la conservation de la nature sont une force unificatrice à cet égard. Cependant, les aires protégées restent un phénomène sociopolitique et la façon dont elles sont comprises, gérées et gouvernée par les États peut toujours être le sujet de débats et de contestations. Ainsi, ce livre cherche à éclairer, éduquer et surtout à inciter les lecteurs à réfléchir à l'avenir, au passé et au présent des aires protégées. Cent soixante neuf auteurs ont participé à la rédaction de ce livre qui porte sur tous les aspects de la gouvernance et de la gestion des aires protégées. Ils ont ainsi créé un outil de formation et de renforcement des capacités pour les agents de terrain et les gestionnaires des aires protégées ainsi que les décideurs de plus haut niveau. La traduction de l'ouvrage est en cours et les chapitres traduits seront publiés progressivement, nous vous invitons donc à consulter le site régulièrement. This is the French translation of Protected Area Governance and Management.
PAGM briefing note Protected Area Governance and Management presents a compendium of original text, case studies and examples from across the world, by drawing on the literature, and on the knowledge and experience of those involved in protected areas. The book synthesises current knowledge and cutting-edge thinking from the diverse branches of practice and learning relevant to protected area governance and management. It is intended as an investment in the skills and competencies of people and consequently, the effective governance and management of protected areas for which they are responsible, now and into the future. The global success of the protected area concept lies in its shared vision to protect natural and cultural heritage for the long term, and organisations such as International Union for the Conservation of Nature are a unifying force in this regard. Nonetheless, protected areas are a socio-political phenomenon and the ways that nations understand, govern and manage them is always open to contest and debate. The book aims to enlighten, educate and above all to challenge readers to think deeply about protected areas—their future and their past, as well as their present. The book has been compiled by 169 authors and deals with all aspects of protected area governance and management. It provides information to support capacity development training of protected area field officers, managers in charge and executive level managers. The French translation of this book, Gouvernance et gestion des aires protégées is also available for download.