McComas Taylor
McComas Taylor teaches at The Australian National University, in Canberra. His research combines contemporary critical theory and Sanskrit narrative literature, primarily in examining questions of knowledge and power: How does discourse shape knowledge, and how does knowledge then feed back into discourse? What makes Sanskrit texts powerful and authoritative? He has published books on the discourse of social division in the Pañcatantra and the contemporary oral performance of the Bhāgavata Purāṇa. He has recently published a translation, The Viṣṇu Purāṇa: Ancient Annals of the God with Lotus Eyes, with an accompanying audiobook, both available from ANU Press.
https://orcid.org/0000-0002-8048-1195
Studies in the Sanskrit Epics and Purāṇas
Publication date: November 2023
Sanskrit narrative is the lifeblood of Indian culture, encapsulating and perpetuating insights and values central to Indian thought and practice. This volume brings together eighteen of the foremost scholars across the globe, who, in an unprecedented collaboration, accord these texts the integrity and dignity they deserve. The last time this was attempted, on a much smaller scale, was a generation ago, with Purāṇa Perennis (1993). The pre-eminent contributors to this landmark collection use novel methods and theory to meaningfully engage Sanskrit narrative texts, showcasing the state of contemporary scholarship on the Sanskrit epics and purāṇas.
Ancient Annals of the God with Lotus Eyes
Publication date: June 2021
This translation of The Viṣṇu Purāṇa is also available as a free audiobook (see the 'Additional Resources' tab). Viṣṇu is a central deity in the Hindu pantheon, especially in his manifestation as the seductive cattle-herding youth, Kṛṣṇa. The purāṇas are sacred texts, which, as the Sanskrit name implies, are collections of narratives from 'long ago'. The Viṣṇu Purāṇa is thus an ancient account of the universe and guide to life, which places Viṣṇu-Kṛṣṇa at the centre of creation, theology and reality itself. This text, composed about 1,500 years ago, provides a comprehensive and accessible introduction to the most important themes and narratives that constitute the Hindu imagination: the creation and destruction of the universe, the origin of gods and mortals, the peopling of the world, and the structure and conduct of ideal brahminical society. The Viṣṇu Purāṇa describes the trials of exemplary devotees, the existential struggles between gods and demons, and the exploits of legendary cultural heroes. It also contains many ecstatic songs of praise for the deity. The ever-popular accounts of Kṛṣṇa's love games with the cattle-herding girls of Vṛṇdāvana, which have proliferated in literature, dance, song and visual arts over the millennia, are found here in authoritative form. This faithful yet fluent blank-verse rendering of this great Hindu classic is the first new English translation in nearly 200 years. It will be welcomed by the scholarly community, while remaining readily accessible to a general readership.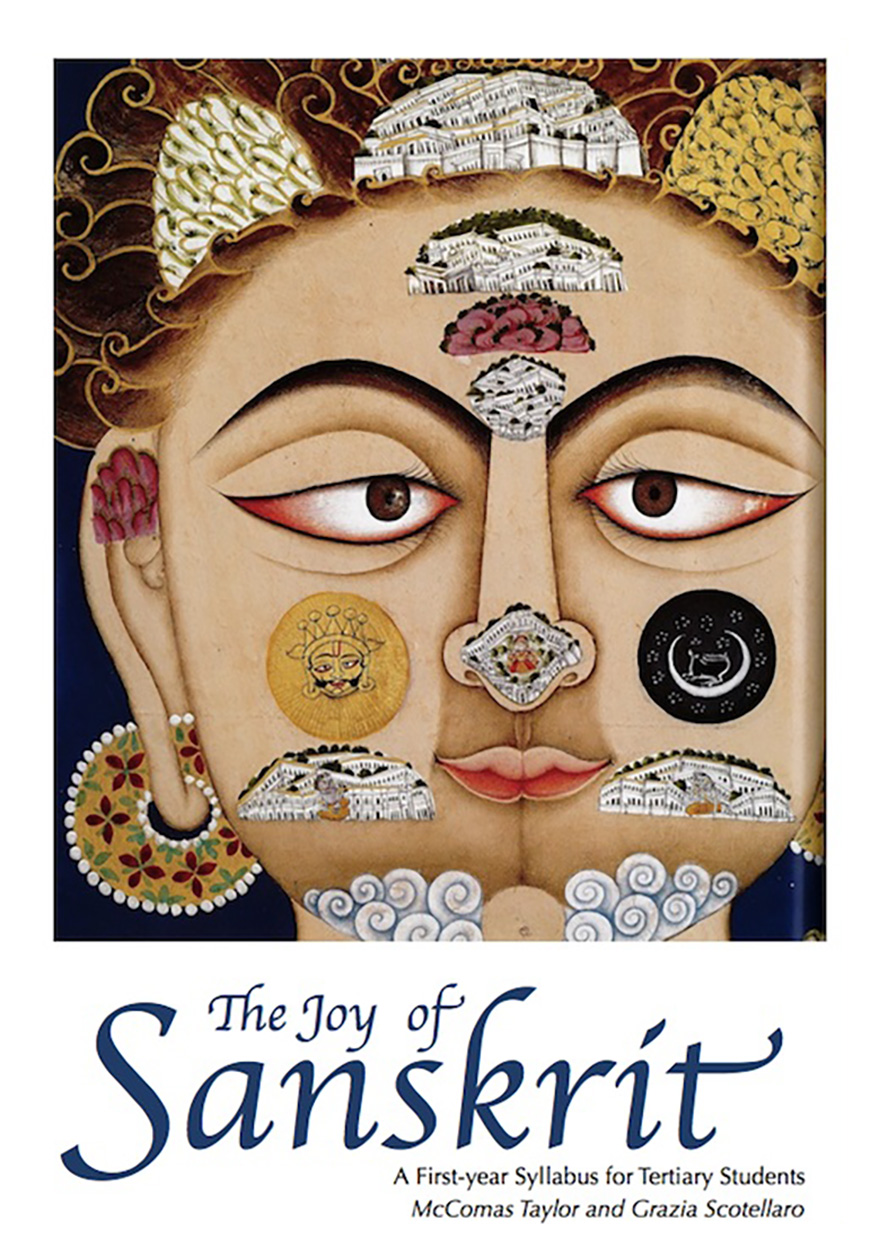 A first-year syllabus for tertiary students
Publication date: February 2014
The Joy of Sanskrit is a complete first-year course of twenty-five weeks designed for university students. We teach Sanskrit as a living tradition. This is in recognition of the fact that many of our students have backgrounds in Indic religions and Indian cultural practices, including yoga, art, music, dance and song. As a living tradition, we believe that the reception of language (especially the ability to read), should be balanced with its production (writing, speaking, chanting and singing). With this in view, each weekly unit has three parts: 1. simple Sanskrit conversational patterns, 2. a verse from the oral tradition, and 3. the all-important grammar section. The grammar is based on the textbook Introduction to Sanskrit by Prof. Thomas Egenes. Each week includes introductory videos, audio files to help you with correct pronunciation, and an audio commentary on the text book. By the end of the course, you will be able to conduct a coherent conversation on a range of simple topics, you be able to chant accurately twenty-six well-known verses, and you will have a good grasp of all the most common grammatical forms, so that you are ready to begin reading simple narratives. In addition to this Joy of Sanskrit e-text, you will need to purchase Introduction to Sanskrit, Parts 1 and 2. (T. Egenes, Motilal Banarsidass, 3rd edition or later), as it contains all the written exercises and solutions. The Joy of Sanskrit etext is in ePub format, and you will need multimedia-enabled epub reader to access the video and audio content successfully. If you have an iPad, iPhone or iPod touch, open The Joy of Sanskrit in iBooks If you have an Android tablet, you will need this app: epubreader If you have a Mac, Bookreader Lite works very well If you are running Windows, you can read the ePub with Azardi, available here: http://azardi.infogridpacific.com/azardi-download.html You can choose to download the complete Joy of Sanskrit e-text or to download each half as separate files. This textbook is used as course material in: Sanskrit 1 SKRT1002 and SKRT6102 Sanskrit 2 SKRT1003 and SKRT6103