Grazia Scotellaro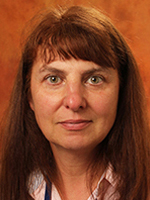 Grazia Scotellaro is the Digital Learning Advisor for the College of Asia and the Pacific and has a background in Technology Enhanced Language Learning. Grazia has won several awards including a College of Asia and the Pacific for Award for a Program that Enhances Student Learning in 2011 and a Vice-Chancellor Award in 2012 she was also nominated for the OLT Australian Award for University Teaching in 2012 and 2013. Currently her focus is in the support of small enrolment languages and her enthusiasm for technology and teaching and pioneer use of epubs in education is well known at ANU.
An eTextbook for spoken and literary Tibetan
This textbook includes twelve multi-media introductory lessons for Tibetan learners. There are sections that explain how to write and read the Tibetan alphabet, how to write and read Tibetan words, and easy colloquial and literary sentences. Each section includes a dialogue that is performed in videos and written down, written explanations of different aspects of the language, videos that demonstrate how to write, read and pronounce Tibetan, and exercises that will help solidify what you have learned. The book also includes links to online sources, including flashcards to aid vocabulary building. Part 1 is an introduction to reading and writing Tibetan. Part 2 builds on these skills and helps Tibetan learners develop conversational skills. Part 3 introduces literary Tibetan by building on the commonalities between it and conversational Tibetan. Here is everything you need to learn the world's highest language.
A first-year syllabus for tertiary students
The Joy of Sanskrit is a complete first-year course of twenty-five weeks designed for university students. We teach Sanskrit as a living tradition. This is in recognition of the fact that many of our students have backgrounds in Indic religions and Indian cultural practices, including yoga, art, music, dance and song. As a living tradition, we believe that the reception of language (especially the ability to read), should be balanced with its production (writing, speaking, chanting and singing). With this in view, each weekly unit has three parts: 1. simple Sanskrit conversational patterns, 2. a verse from the oral tradition, and 3. the all-important grammar section. The grammar is based on the textbook Introduction to Sanskrit by Prof. Thomas Egenes. Each week includes introductory videos, audio files to help you with correct pronunciation, and an audio commentary on the text book. By the end of the course, you will be able to conduct a coherent conversation on a range of simple topics, you be able to chant accurately twenty-six well-known verses, and you will have a good grasp of all the most common grammatical forms, so that you are ready to begin reading simple narratives. In addition to this Joy of Sanskrit e-text, you will need to purchase Introduction to Sanskrit, Parts 1 and 2. (T. Egenes, Motilal Banarsidass, 3rd edition or later), as it contains all the written exercises and solutions. The Joy of Sanskrit etext is in ePub format, and you will need multimedia-enabled epub reader to access the video and audio content successfully. If you have an iPad, iPhone or iPod touch, open The Joy of Sanskrit in iBooks If you have an Android tablet, you will need this app: epubreader If you have a Mac, Bookreader Lite works very well If you are running Windows, you can read the ePub with Azardi, available here: http://azardi.infogridpacific.com/azardi-download.html You can choose to download the complete Joy of Sanskrit e-text or to download each half as separate files.