Don Niles
Don Niles is Acting Director and Senior Ethnomusicologist of the Institute of Papua New Guinea Studies. He is interested in research and publication on all types of music and dance in Papua New Guinea, including traditional, popular, and Christian forms. The author/editor of numerous books, articles, and audiovisual publications on various aspects of music, dance, and archiving, Don also edits the Institute's music monograph series (Apwitihire: Studies in Papua New Guinea Musics) and journal (Kulele: Occasional Papers in Pacific Music and Dance). He is a vice president of the International Council for Traditional Music and former editor of their journal, the Yearbook for Traditional Music.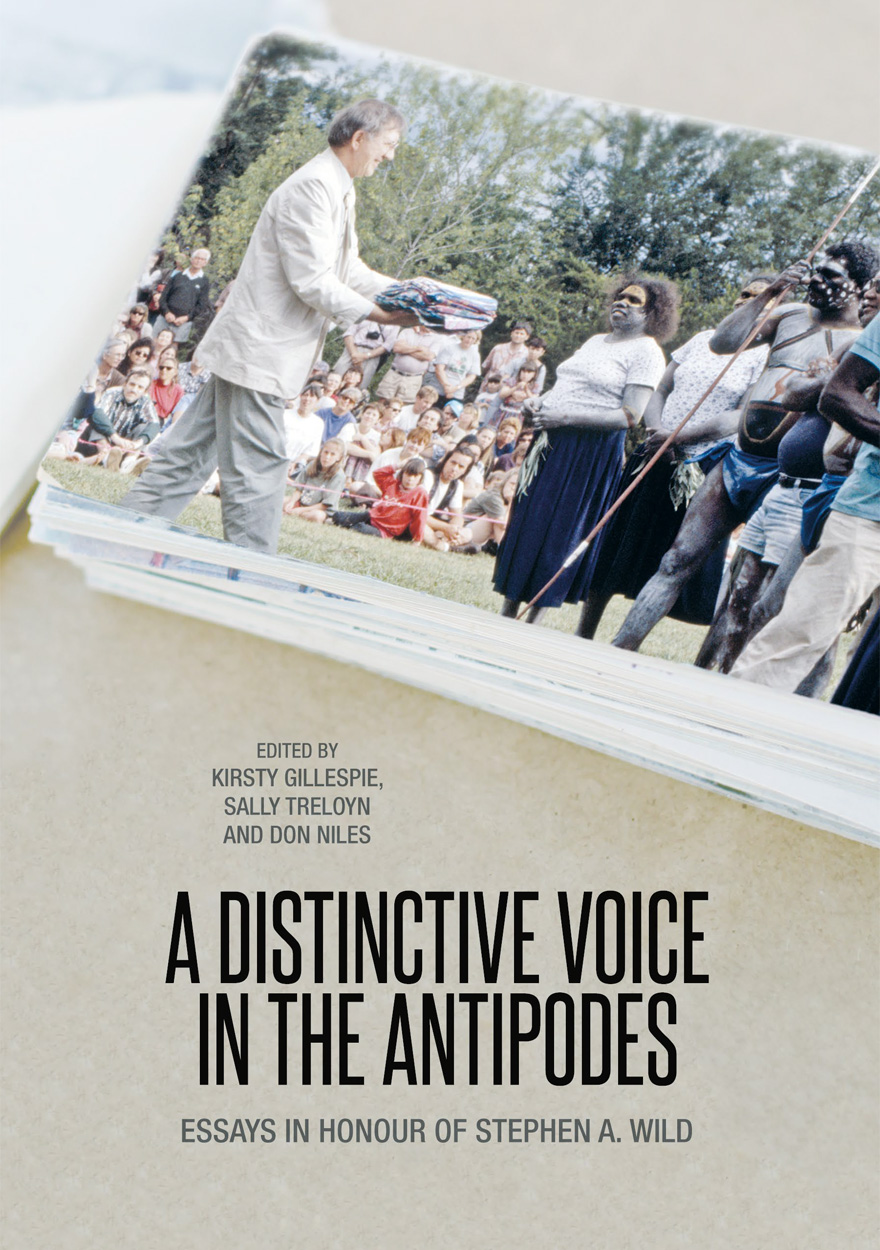 Essays in Honour of Stephen A. Wild
Publication date: July 2017
This volume of essays honours the life and work of Stephen A. Wild, one of Australia's leading ethnomusicologists. Born in Western Australia, Wild studied at Indiana University in the USA before returning to Australia to pursue a lifelong career with Indigenous Australian music. As researcher, teacher, and administrator, Wild's work has impacted generations of scholars around the world, leading him to be described as 'a great facilitator and a scholar who serves humanity through music' by Andrée Grau, Professor of the Anthropology of Dance at University of Roehampton, London. Focusing on the music of Aboriginal Australia and the Pacific Islands, and the concerns of archiving and academia, the essays within are authored by peers, colleagues, and former students of Wild. Most of the authors are members of the Study Group on Music and Dance of Oceania of the International Council for Traditional Music, an organisation that has also played an important role in Wild's life and development as a scholar of international standing. Ranging in scope from the musicological to the anthropological—from technical musical analyses to observations of the sociocultural context of music—these essays reflect not only on the varied and cross-disciplinary nature of Wild's work, but on the many facets of ethnomusicology today.
The Memorial Poetry of the Foi of the Southern Highlands Province of Papua New Guinea
Publication date: July 2015
For 31 months between 1979 and 1995, James F. Weiner conducted anthropological research amongst the Foi people in Southern Highlands Province, Papua New Guinea. This book contains the transcriptions, translations, and descriptions of the songs he recorded. The texts of women's sago songs (obedobora), men's ceremonial songs (sorohabora), and women's sorohabora are included. Men turn the prosaic content of womenís sago songs into their own sorohabora songs, which are performed the night following large-scale inter-community pig kills, called dawa. While women sing sago songs by themselves, men sing their ceremonial songs in groups of paired men. Women also have their own ceremonial versions of such songs. The songs are memorial in intent; they are designed to commemorate the lives of men who are no longer living. Most commonly they do so by naming the places the deceased inhabited during his lifetime. These song texts and translations are introduced by Weiner. Ethnomusicologist Don Niles then brings together information about each type of song and considers these Foi genres in relation to those of neighbouring groups, highlighting aspects of regional performance styles. Consideration is also given to the poetic devices used in Papua New Guinea songs. Eighteen recordings illustrating the Foi genres discussed in this book are available for download. It remains uncertain how such songs may be affected by the major oil extraction project that has been undertaken in the region for more than two decades. This book will interest students of anthropology, ethnomusicology, linguistics, verbal art, aesthetics, and cultural heritage.
Studies in Form, Meaning, and Sociocultural Context
Publication date: August 2011
The genres of sung tales that are the subject of this volume are one of the most striking aspects of the cultural scene in the Papua New Guinea Highlands. Composed and performed by specialist bards, they are a highly valued art form. From a comparative viewpoint they are remarkable both for their scale and complexity, and for the range of variation that is found among regional genres and individual styles. Though their existence has previously been noted by researchers working in the Highlands, and some recordings made of them, most of these genres have not been studied in detail until quite recently, mainly because of the challenging range of disciplinary expertise that is required—in anthropology, linguistics, and ethnomusicology. This volume presents a set of interrelated studies by researchers in all of those fields, and by a Papua New Guinea Highlander who has assisted with the research based on his lifelong familiarity with one of the regional genres. The studies presented here (all of them previously unpublished and written especially for this volume) are of groundbreaking significance not only for specialists in Melanesia or the Pacific, but also for readers with a more general interest in comparative poetics, mythology, musicology, or verbal art.