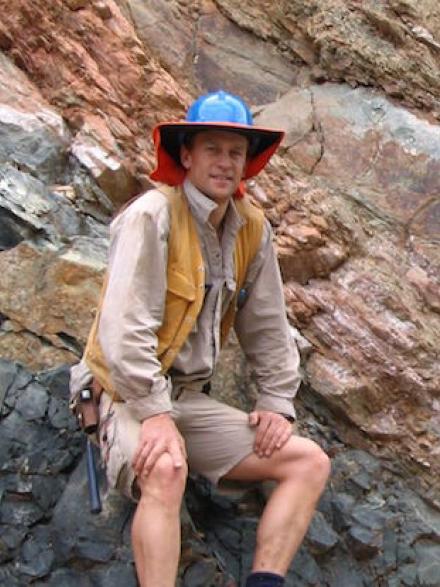 Richard Blewett, an Aussie by birth, left for Africa and UK in the 1970s. He graduated 1st class Hons in Geology from Swansea University (Wales) in 1985. Following a year in industry in South Africa, he completed a PhD in structural geology from Leicester University in the UK (1989). During this time he worked in the French Alps, Canadian Appalachians, British Caledonides and Nepalese Himalaya.
Richard joined Geoscience Australia in 1990, and has worked in North Queensland, the Pilbara, Sultanate of Oman, the Yilgarn, Gawler–Curnamona, Arunta and Mugraves. Richard was the Chief Editor of Shaping a nation: A geology of Australia, which was a joint GA–ANU Press publication for the Brisbane 2012 International Geological Congress. He is interested in the management of science and research and has an MBA from Deakin University (2001).
He is presently the Group Leader of Regional Geology and Mineral Systems in the Minerals and Natural Hazards Division at Geoscience Australia.
A Geophysical Synthesis
Authored by: Brian Kennett, Richard Chopping, Richard Blewett
ISBN (print): 9781760462468
ISBN (online): 9781760462475
Publication date: August 2018
Australia 1978–2015
Authored by: Brian Kennett, E. Saygin, T. Fomin, Richard Blewett
ISBN (print): 9781760460846
ISBN (online): 9781760460853
Publication date: November 2016
A Geology of Australia
Edited by: Richard Blewett
ISBN (print): 9781922103437
ISBN (online): 9781921862823
Publication date: August 2012