We will soon be taking orders as normal. Thank you for your patience. If you would like to be notified when our cart is operating again—or if you would like to place an urgent order manually—please email orders.press@anu.edu.au. In the meantime, you can order hard copies through selected bookshops.
Richard Blewett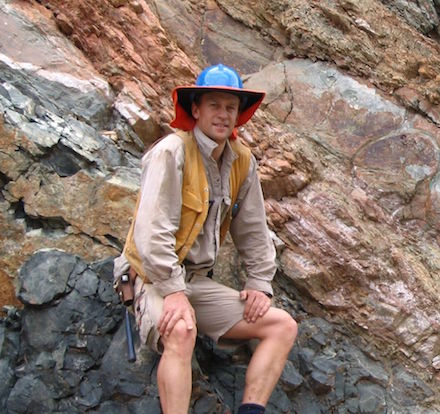 Richard Blewett, an Aussie by birth, left for Africa and UK in the 1970s. He graduated 1st class Hons in Geology from Swansea University (Wales) in 1985. Following a year in industry in South Africa, he completed a PhD in structural geology from Leicester University in the UK (1989). During this time he worked in the French Alps, Canadian Appalachians, British Caledonides and Nepalese Himalaya.
Richard joined Geoscience Australia in 1990, and has worked in North Queensland, the Pilbara, Sultanate of Oman, the Yilgarn, Gawler–Curnamona, Arunta and Mugraves. Richard was the Chief Editor of Shaping a nation: A geology of Australia, which was a joint GA–ANU Press publication for the Brisbane 2012 International Geological Congress. He is interested in the management of science and research and has an MBA from Deakin University (2001).
He is presently the Group Leader of Regional Geology and Mineral Systems in the Minerals and Natural Hazards Division at Geoscience Australia.
A Geophysical Synthesis
Publication date: August 2018
The Australian Continent: A Geophysical Synthesis is designed to provide a summary of the character of the Australian continent through the extensive information available at the continental scale, as a contribution to the understanding of Australia's lithospheric architecture and its evolution. The results build on the extensive databases assembled at Geoscience Australia, particularly for potential fields, supplemented by the full range of seismological information, mostly from The Australian National University. To aid in cross comparison of results from different disciplines, information is presented with a common projection and scales.
Australia 1978–2015
Publication date: November 2016
Deep Crustal Seismic Reflection Profiling: Australia 1978–2015 presents the full suite of reflection profiles penetrating the whole crust carried in Australia by Geoscience Australia and various partners. The set of reflection data comprises over 16,000 km of coverage across the whole continent, and provides an insight into the variations in crustal architecture in the varied geological domains. Each reflection profile is presented at approximately true scale with up to 220 km of profile per page and overlap between pages. Each reflection section is accompanied by a geological strip map showing the configuration of the line superimposed on 1:1M geology. The compilation includes a suite of large-scale reflection transects groups of 1,000 km or more that link across major geological provinces, and an extensive bibliography of reports and relevant publications.
A Geology of Australia
Publication date: August 2012
Shaping a Nation: A Geology of Australia is the story of a continent's geological evolution as seen through the lens of human impacts. Exploring the geology, resources and landscapes of Australia, the book reveals how these have helped to shape this nation's society, environment and wealth. Presented in a refreshingly non-linear format, the book summarises much of what we know about this country's geological history, discussing the fossil record and evolution of life across the continent, describing its mineral and energy reserves, and revealing the significance of its coastal and groundwater systems. The book also explores some of the challenges and opportunities presented by Australia's rich geological heritage, and outlines the issues they present in Australian society today. Based on much of the latest science, the book reveals Australia's expertise in the geosciences and reinforces the vital role they play in informing its present and future development. In presenting the latest geoscientific knowledge, Shaping a Nation is vividly illustrated by technical drawings and figures and accompanied by stunning photography that reveals the extraordinary beauty of Australia's geology and landscapes. For the avid reader, an accompanying DVD hosts extensive appendices, including supplementary reading and reference material, maps, movies and an interactive 3D model showcasing many geoscience datasets. Note for viewing ebook: Because of the large size of the ePub, right-click on the link in the Media Download page and first save it to your computer. Then transfer it to your e-reader device. The ePub is suitable for viewing on iPad and Android devices. Printed copies are available for $70.00 AUD incl GST (plus shipping) through Geoscience Australia.