Meredith Edwards
Meredith Edwards AM, FASSA, FIPAA is Emeritus Professor at the Institute for Governance and Policy Analysis at the University of Canberra, Australia.
An Intimate Account of Cecily and John Burton
Publication date: April 2022
A world in upheaval; two lives lived under stress … This story is set in the social and political landscape of pre– and post–World War II. It tells two vastly different tales of Cecily and John's lives in Australia and overseas, as nations clashed, and governments and international organisations tried to remake the world. Cecily Nixon knew that marrying John Burton would be bad for her. But she loved him and, impressed with this handsome, sullen young man and his belief that he could change the world for the better, saw her role in life as to serve the world through John. Cecily's story is a deeply personal and psychological one of love, duty and betrayal that explores the complexities of relationships. In a world that overwhelmed her, Cecily searched for 'wholeness' and delved deep into her psyche to find herself and emerge from John's shadow. John has been known as an influential and controversial young head of Australia's Department of External Affairs – and as a would-be politician. It is less known that he was also an innovative farmer, bookseller, entrepreneur, arts patron and writer. He received international acclaim for his later work in conflict analysis and resolution. These combined stories of courage and achievement unfold amid political intrigue and psychological trauma. ASIO surveillance, love triangles, loyalty, infidelity and tragedy all play their part in the Burtons' lives. 'A remarkable memoir of a remarkable couple, exploring the fraught dynamic between the personal and political facets of their lives, the perspective lying at the core of modern feminism. Pamela Burton's own insights are those of their youngest child, on whom the disruptions of the 1960s and 1970s had a heavy impact, but also that of her maturity, bringing her sharp forensic skills to the project. Assisted by Meredith Edwards, her eldest sister, Burton has given us an unflinchingly honest and utterly gripping record of our lives and times.' — Sara Dowse, author of West Block and Sapphires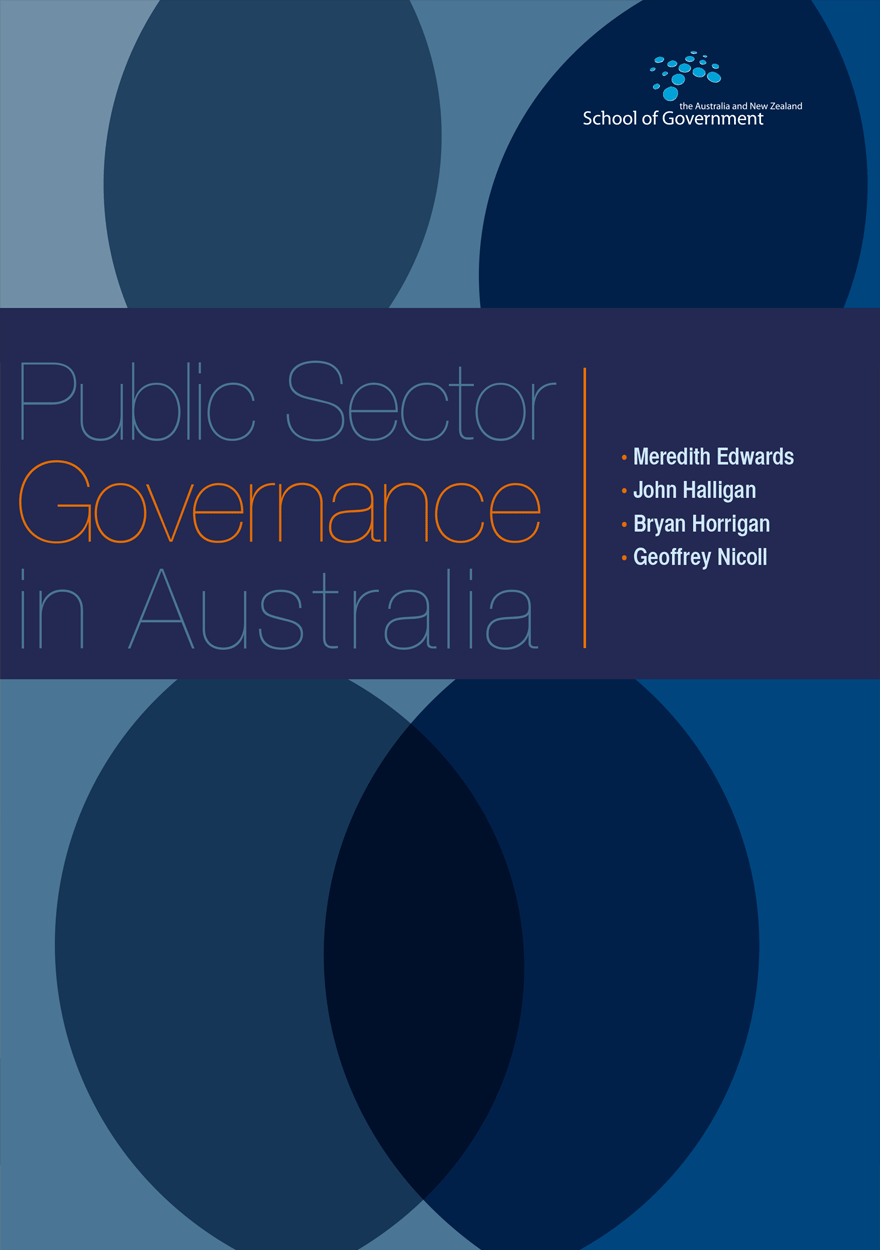 Authored by:
Meredith Edwards,
John Halligan
, Bryan Horrigan, Geoffrey Nicoll
Publication date: July 2012
Australia lacks a scholarly book that covers recent developments in public sector governance in Australia and blends cross-disciplinary perspectives from law, management, public administration and public policy. The primary reason for writing this book is to fill the gap in the treatment of this subject, and to provide insights from empirical evidence and current practice. The book provides the first comprehensive theoretical and empirical work on governance in the Commonwealth public sector. It addresses the issues that emerged under the Howard government as well as their handling under the Rudd and Gillard governments. The book aims to enhance understanding of and communication about public governance across government, industry and the community. The authors bring to this book expertise gained from political science, public administration and policy, public and private sector law.