Kuntala Lahiri-Dutt
Kuntala Lahiri-Dutt is an Associate Professor at the Crawford School of Public Policy, College of Asia and the Pacific, The Australian National University. Kuntala's research is on the interface of community and gender with the environment and natural resource management in developing countries in the Asia-Pacific region. Kuntala has published widely on resource and related areas. Some of her publications include Dancing with the River: People and Life on the Chars of South Asia (co‑authored, Yale University Press, 2013); The Coal Nation: Histories, Ecologies and Politics of Coal in India (Ashgate, 2014); Gendering the Field: Towards Sustainable Livelihoods for Mining Communities (edited, ANU Press, 2011); and Women Miners in Developing Countries: Pit Women and Others (co-edited, Ashgate, 2006).
http://orcid.org/0000-0003-1336-1422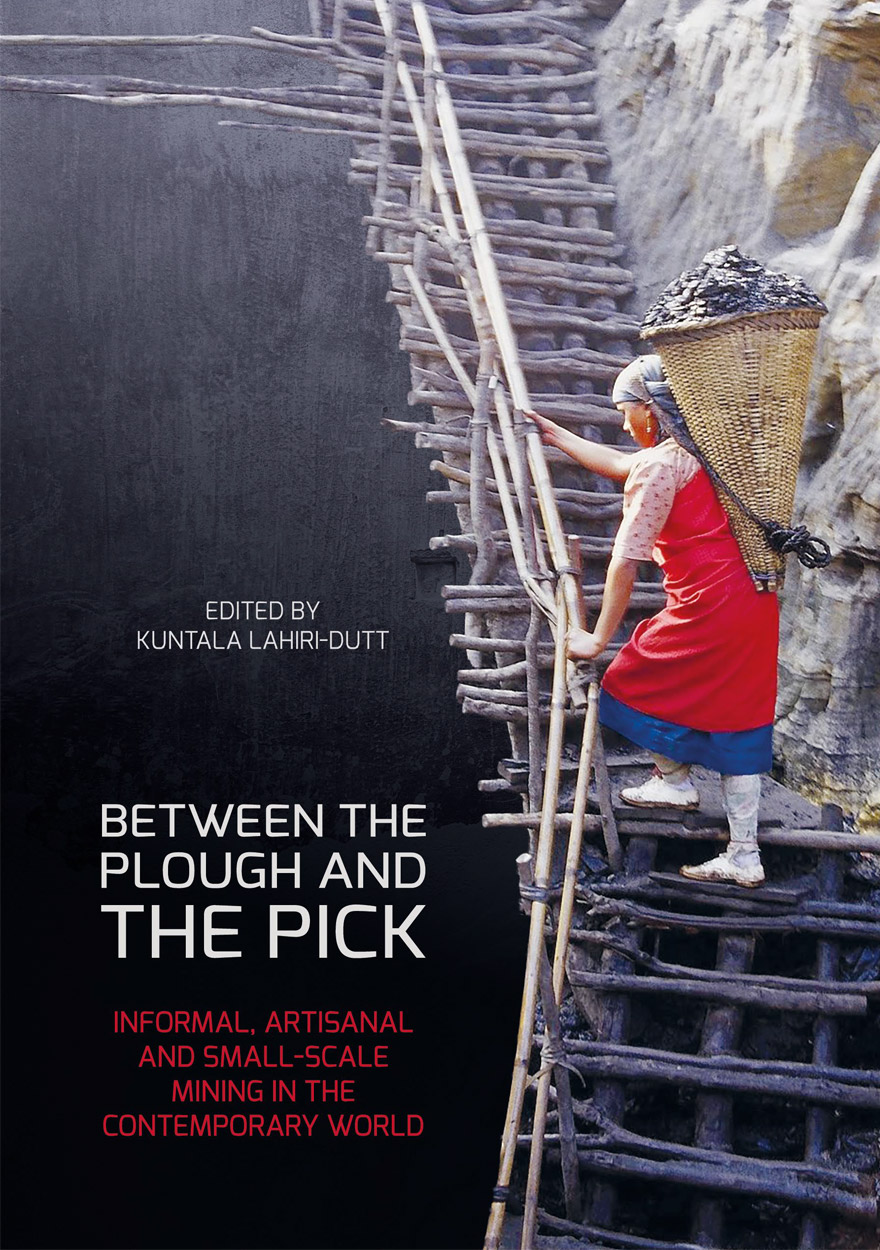 Informal, artisanal and small-scale mining in the contemporary world
Publication date: March 2018
Between the Plough and the Pick deepens our understanding of informal, artisanal and small-scale mining, popularly known as ASM. The book engages with wider scholarly conceptualisations of contemporary global social, agrarian and political changes, whilst underlining the roles that local social‑political-historical contexts play in shaping mineral extractive processes and practices. It shows that the people who are engaged in these mining practices are often the poorest and most exploited labourers—erstwhile peasants caught in the vortex of global change, who perform the most insecure and dangerous tasks. Although these people are located at the margins of mainstream economic life, they collectively produce enormous amounts of diverse material commodities and find a livelihood (and often a pathway out of oppressive poverty). The contributions to this book bring these people to the forefront of debates on resource politics. The contributors are international scholars and practitioners who explore the complexities in the histories, in labour and production practices, the forces driving such mining, the creative agency and capacities of these miners, as well as the human and environmental costs of ASM. They show how these informal, artisanal and small‑scale miners are inextricably engaged with, or bound to, global commodity values, are intimately involved in the production of new extractive territories and rural economies, and how their labour reshapes agrarian communities and landscapes of resource access and control. This book drives home the understanding that, collectively, this social and economic milieu redefines our conceptualisation of resource politics, mineral‑dependent livelihoods, extractive geographies of resources and commodities, and their multiple meanings.
Towards Sustainable Livelihoods for Mining Communities
Publication date: March 2011
The chapters in this book offer concrete examples from all over the world to show how community livelihoods in mineral-rich tracts can be more sustainable by fully integrating gender concerns into all aspects of the relationship between mining practices and mine affected communities. By looking at the mining industry and the mine-affected communities through a gender lens, the authors indicate a variety of practical strategies to mitigate the impacts of mining on women's livelihoods without undermining women's voice and status within the mine-affected communities. The term 'field' in the title of this volume is not restricted to the open-cut pits of large scale mining operations which are male-dominated workplaces, or with mining as a masculine, capital-intensive industry, but also connotes the wider range of mineral extractive practices which are carried out informally by women and men of artisanal communities at much smaller geographical scales throughout the mineral-rich tracts of poorer countries.