Heather Goodall
Heather Goodall is an award-winning author, publishing on Indigenous histories and environmental history and on decolonisation. She has co-authored with Aboriginal activists Isabel Flick and Kevin Cook. Growing up on Sydney's Georges River, Heather has analysed river environmental history and politics in rural areas and in cities. Her co-authored books on Georges River people and environment include Rivers and Resilience (Aboriginal communities); Waters of Belonging (Arabic-speaking communities) and Waterborne (Vietnamese communities). As Professor Emerita of History, University of Technology Sydney, Heather continues her work as an activist researcher.
https://orcid.org/0000-0002-8643-5624
Swamps, Mangroves and Resident Action, 1945–1980
Publication date: February 2022
The lower Georges River, on Dharawal and Dharug lands, was a place of fishing grounds, swimming holes and picnics in the early twentieth century. But this all changed after World War II, when rapidly expanding industry and increasing population fell heaviest on this river, polluting its waters and destroying its bush. Local people campaigned to defend their river. They battled municipal councils, who were themselves struggling against an explosion of garbage as population and economy changed. In these blues (an Australian term for conflict), it was mangroves and swamps that became the focus of the fight. Mangroves were expanding because of increasing pollution and early climate change. Councils wanted to solve their garbage problems by bulldozing mangroves and bushland, dumping garbage and, eventually, building playing fields. So they attacked mangroves as useless swamps that harboured disease. Residents defended mangroves by mobilising ecological science to show that these plants nurtured immature fish and protected the river's health. These suburban resident action campaigns have been ignored by histories of the Australian environmental movement, which have instead focused on campaigns to save distant 'wilderness' or inner-city built environments. The Georges River environmental conflicts may have been less theatrical, but they were fought out just as bitterly. And local Georges River campaigners – men, women and often children – were just as tenacious. They struggled to 'keep bushland in our suburbs', laying the foundation for today's widespread urban environmental consciousness. Cover: Ruth Staples was a courageous Georges River campaigner who lived all her life around Lime Kiln Bay at Oatley West. She kept on fighting to regenerate the river until her death, aged 90, in 2020.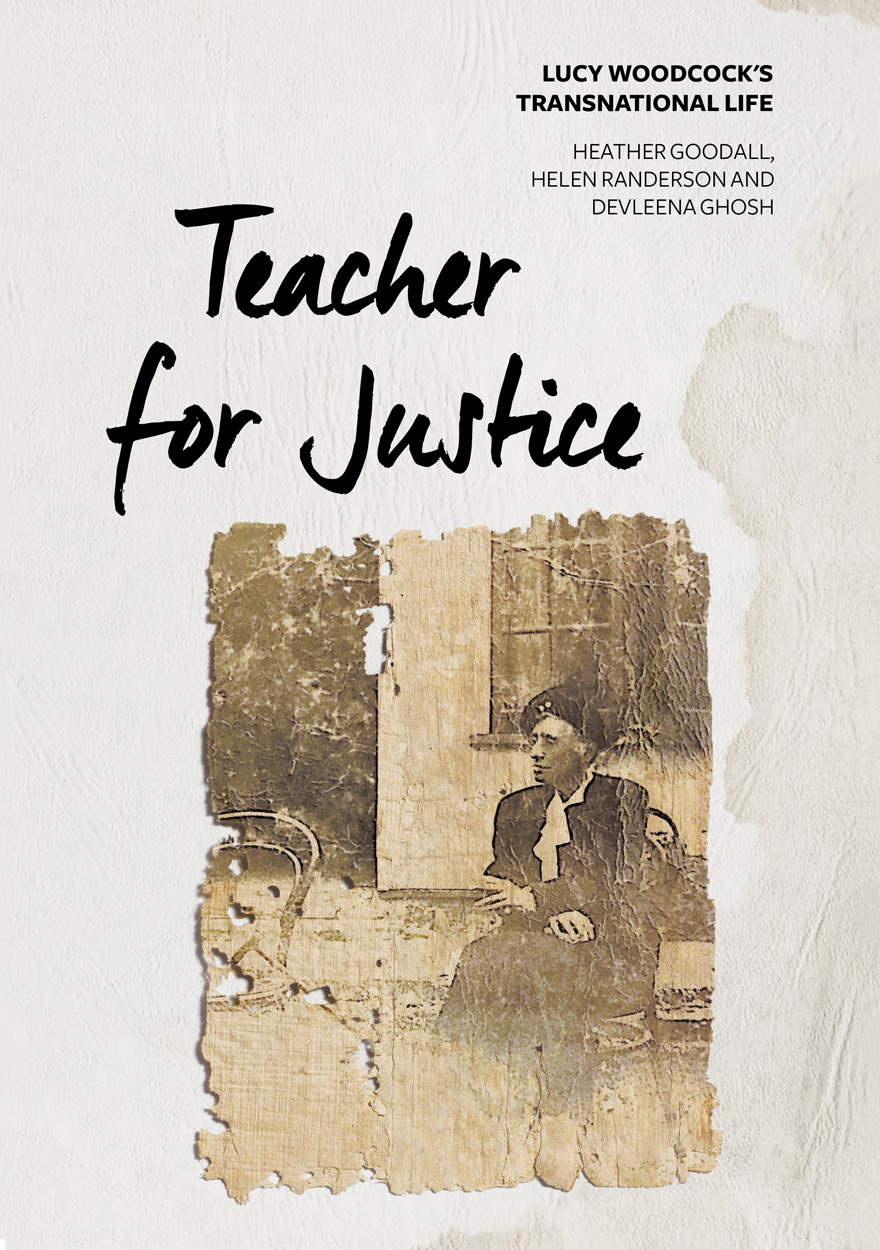 Lucy Woodcock's Transnational Life
Publication date: August 2019
'Teacher for Justice is a major contribution to the history of the women's movement, working‑class activism and Australian political internationalism. But it is more than this. By focusing on the life of Lucy Woodcock – an unrecognised and under-researched figure – this book rewrites the history of twentieth-century Australia from the perspective of an activist who challenged conventions to fight for gender, race and class equality, exploring the complex and multi-layered intersections of these aspects. It explores Woodcock's personal relationships and the circles she mixed in and the friendships she forged, as well as the conventions she challenged as a single woman in possibly a same-sex relationship. The book makes a key contribution to the history of progressive education and the experience of women teachers. Above all, it charts the life of a transnational figure who made connections globally and, in particular, with refugees and with women in India and the Asian region. It is a detailed, thoroughly researched and richly textured history which places Woodcock within the context of the times in which she lived.' Joy Damousi, Professor of History, University of Melbourne 'Meet Lucy Woodcock, a complex, undaunted woman in a tough and changing world. From her role as a public school principal in Depression and wartime, to her union and feminist organising, to her transnational engagements for peace, this clear and thoughtful book brings to life forgotten forms of activism. It's the gripping story of how Lucy navigated the minefields of gender, class, race and coloniality to change her world.' Raewyn Connell, Professor Emerita, University of Sydney 'Just over a century ago, the last of the pupil-teachers, Lucy Woodcock, co-founded the NSW Teachers Federation. So many of the principles and traditions that underpin our union today can be traced back to the lifelong work of Lucy Woodcock. She fought for the industrial rights of teachers deep in the knowledge of the broader social and economic context in which she lived and worked. Too often the role of working-class women whose influence is profound is ignored. This biography installs Lucy Woodcock into her rightful place as pivotal player in the history of twentieth-century Australia.' Maurie Mulheron, President, NSW Teachers Federation 'A fascinating history of a fascinating woman: Lucy's interests were so broad and so modern – equal pay, racism, internationalism, Indigenous rights and anti-war struggles were all part of Lucy's world. She had a vision beyond nationalism, championed the cause of world peace when peace was being treated as a dirty word and saw women as global citizens. Lucy was one of the heroes of our disgracefully unfinished Equal Pay struggle.' Hon Dr Meredith Burgmann, anti-racism and peace activist, former President of the NSW Legislative Council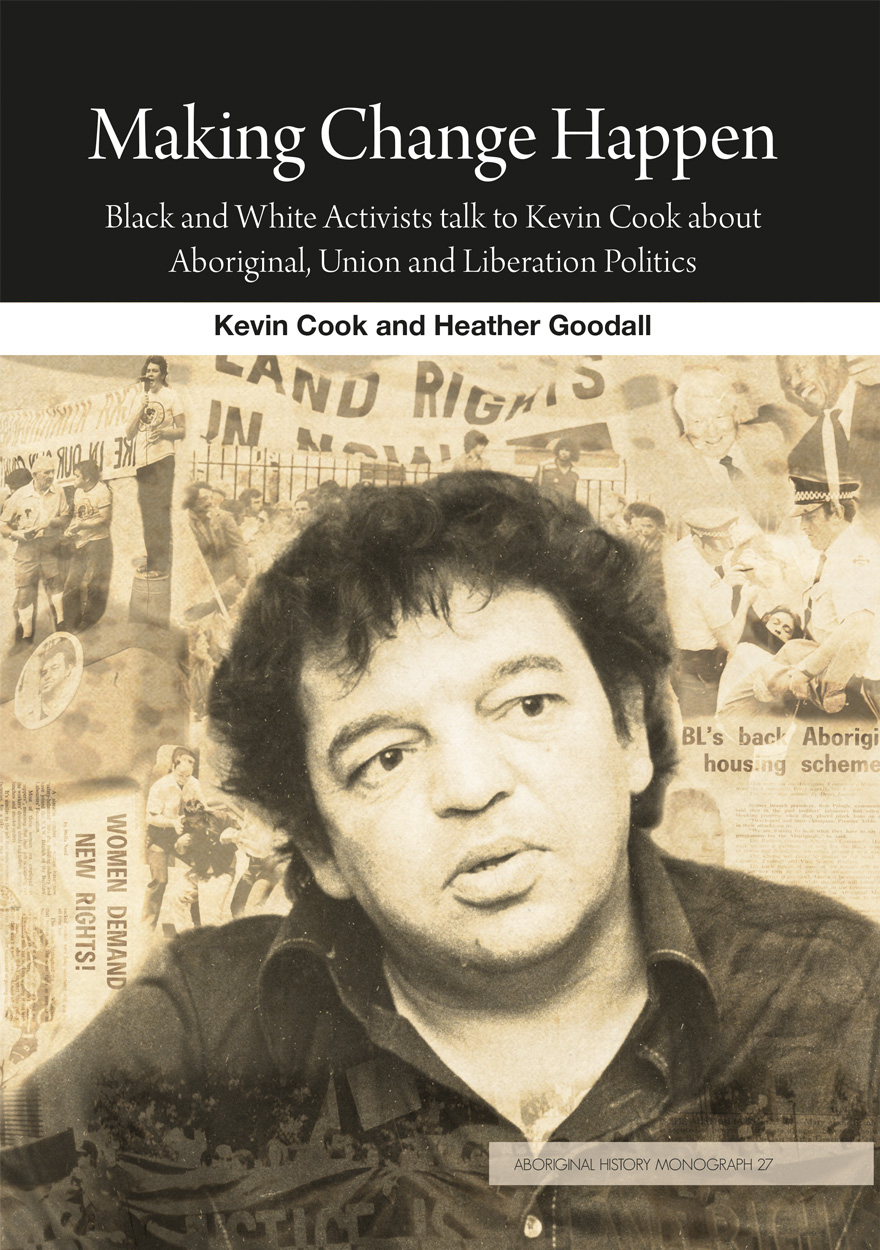 Black and White Activists talk to Kevin Cook about Aboriginal, Union and Liberation Politics
Publication date: September 2013
This book is a unique window into a dynamic time in the politics and history of Australia. The two decades from 1970 to the Bicentennial in 1988 saw the emergence of a new landscape in Australian Indigenous politics. There were struggles, triumphs and defeats around land rights, community control of organisations, national coalitions and the international movement for Indigenous rights. The changes of these years generated new roles for Aboriginal people. Leaders had to grapple with demands to be administrators and managers as well as spokespeople and lobbyists. The challenges were personal as well as organisational, with a central one being how to retain personal integrity in the highly politicised atmosphere of the 'Aboriginal Industry'. Kevin Cook was in the middle of many of these changes – as a unionist, educator, land rights campaigner, cultural activist and advocate for liberation movements in Southern Africa, the Pacific and around the world. But 'Cookie' has not wanted to tell the story of his own life in these pages. Instead, with Heather Goodall, a long time friend, he has gathered together many of the activists with whom he worked to tell their stories of this important time. Readers are invited into the frank and vivid conversations Cookie had with forty-five black and white activists about what they wanted to achieve, the plans they made, and the risks they took to make change happen. "You never doubted Kevin Cook. His very presence made you confident because the guiding hand is always there. Equal attention is given to all. I am one of many who worked with Cookie and Judy through the Tranby days and in particular the 1988 Bicentennial March for Freedom, Justice and Hope. What days they were. I'm glad this story is being told." — Linda Burney, MLA New South Wales "Kevin Cook was a giant in the post-war struggle for Aboriginal rights. His ability to connect the dots and make things happen was important in both the political and cultural resurgence of the 1970s onwards." — Meredith Burgmann, former MLC, New South Wales "Kevin has had a transformative effect on the direction of my life and the lives of so many other people. This book is an important contribution to understanding not only Kevin's life but also the broader struggles for social and economic justice, for community empowerment and of the cooperative progressive movement. It will greatly assist the ongoing campaign for full and sustainable reconciliation." — Paddy Crumlin, National Secretary, Maritime Union of Australia "Cookie has made great contributions in enhancing the struggles of our people. He is a motivator, an astute strategist, and an excellent communicator with wonderful people skills. It's a pleasure to be able to call him a mate and a brother." — John Ah Kit, former MLA, Northern Territory For more information on Aboriginal History Inc. please visit aboriginalhistory.org.au.