Fred Cahir
Dr Fred Cahir is a Senior Lecturer and Aboriginal Studies Program Coordinator in the School of Education and Arts at Federation University, Australia. He is also a co-Director of the 'Australian History Research Centre' and is the Program Coordinator of 'Australian History Higher Degree by Research' at Federation University. A 2013 Australian Award for University Teaching [Office for Learning and Teaching] was awarded to Fred for 'designing imaginative and authentic learning experiences which empower Indigenous studies students'.
His Masters and PhD focused on local Victorian Aboriginal history and he publishes widely in this field. His PhD and subsequent book 'Black Gold: the role of Aboriginal people on the Gold Fields of Victoria' was awarded the Australian National University & Australian Historical Association 2008 Alan Martin Award for 'a PhD Thesis which has made a significant contribution to the field of Australian history'.
Two of Fred's recent publications: 'Black Gold' [ANU E-Press]and 'The Historic Importance of the Dingo in Aboriginal Society in Victoria' [Journal of the International Society for Anthrozoology] were awarded commendations in the 2013 Victorian Community History Awards. Fred's latest co-edited book with Professor Ian Clark  is 'The Aboriginal Story of Burke and Wills: Forgotten Narratives' (2013), an outcome of an ARC Linkage Grant (2011).
Fred is currently working on several books including 'Aboriginal Protector's Children: Their Contribution to Aboriginal Studies'; 'Victorian Aboriginal Ecological Knowledge' and 'A History of the Wathawurrung'.
Some of his current Public roles include: Editorial Board member of the Journal of the Public Records Office of Victoria, Geographic Place Names Advisory Panel [VIC} and Aboriginal History Advisor at Sovereign Hill Museum.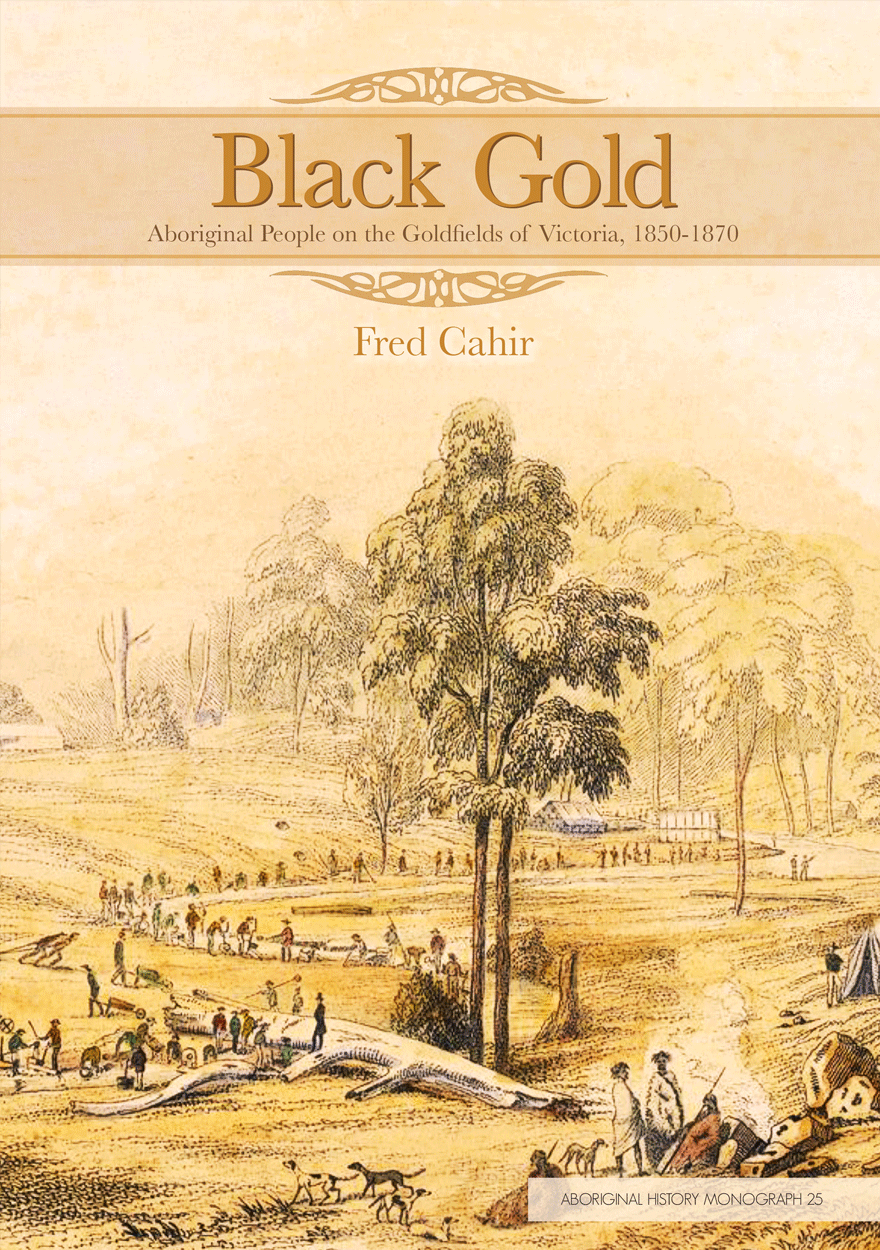 Aboriginal People on the Goldfields of Victoria, 1850-1870
Publication date: September 2012
Fred Cahir tells the story about the magnitude of Aboriginal involvement on the Victorian goldfields in the middle of the nineteenth century. The first history of Aboriginal–white interaction on the Victorian goldfields, Black Gold offers new insights on one of the great epochs in Australian and world history—the gold story. In vivid detail it describes how Aboriginal people often figured significantly in the search for gold and documents the devastating social impact of gold mining on Victorian Aboriginal communities. It reveals the complexity of their involvement from passive presence, to active discovery, to shunning the goldfields. This detailed examination of Aboriginal people on the goldfields of Victoria provides striking evidence which demonstrates that Aboriginal people participated in gold mining and interacted with non-Aboriginal people in a range of hitherto neglected ways. Running through this book are themes of Aboriginal empowerment, identity, integration, resistance, social disruption and communication. For more information on Aboriginal History Inc. please visit aboriginalhistory.org.au.