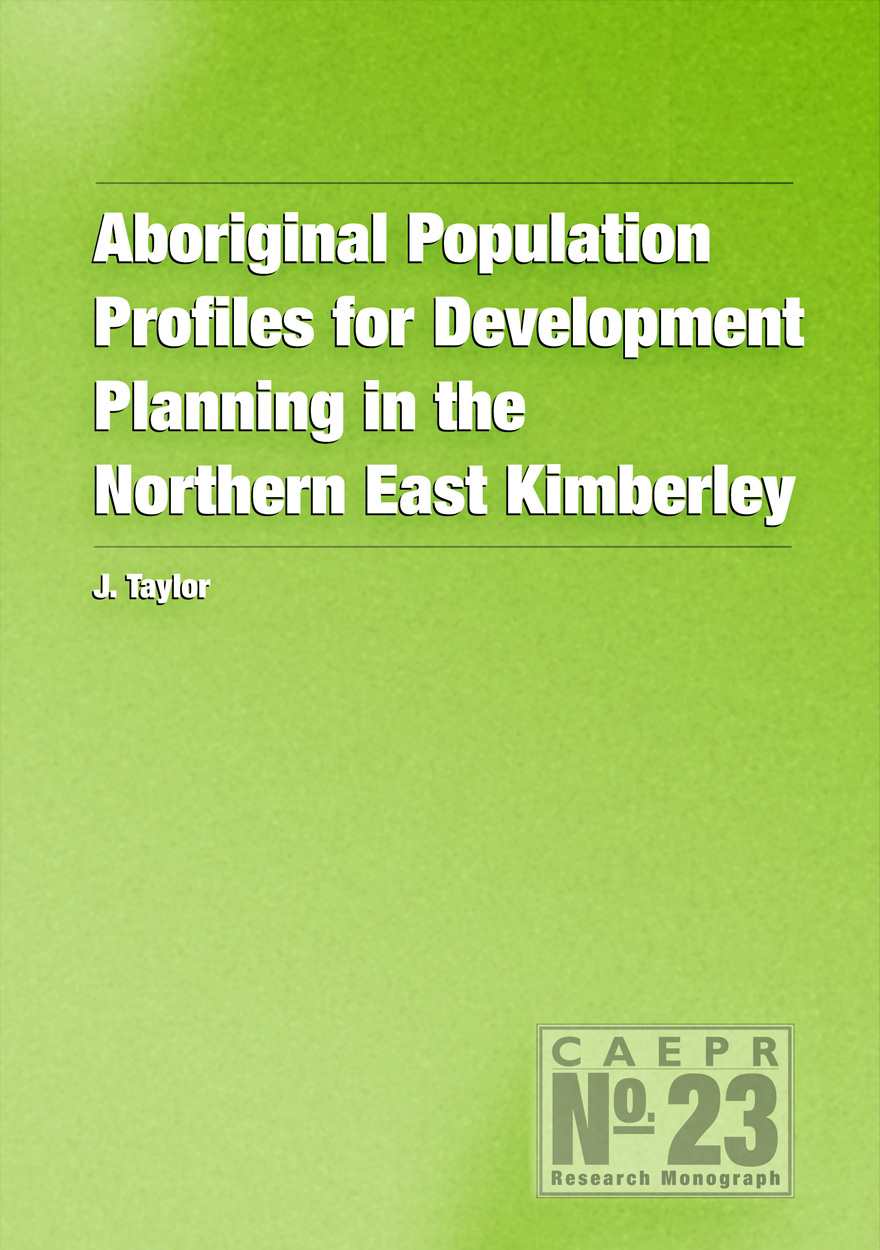 Aboriginal Population Profiles for Development Planning in the Northern East Kimberley »
Please read Conditions of use before downloading the formats.
Whole book
PDF chapters
If your web browser doesn't automatically open these files, please download a PDF reader application such as the free Adobe Acrobat Reader.
To copy a chapter DOI link, right-click (on a PC) or control+click (on a Mac) and then select 'Copy link location'.
Preliminary Pages (PDF, 1.3MB)
Methods
Defining the region
Population size
The study region
Population growth
East Kimberley
The study region
Service populations
Population distribution
Age composition
The study region
Population projections
Projection assumptions
Projection results
Notes
Regional labour force status
Dependency ratios
Industry and occupation
CDEP activities
Argyle mine employment: history and future targets
Estimating future labour force status
Notes
Employment and non-employment income
Welfare income
Participation in schooling
Enrolments
Retention rates
Attendance
Outcomes
Participation in vocational education and training (VET)
Outcomes
Qualifications
Housing and infrastructure in 2001
Housing tenure
Home ownership
Rental housing
Environmental health infrastructure
Estimation of mortality
Cause of death
Standardised death rates
Hospital separations
Hospital diagnoses
Standardised separation rates
Stages of morbidity
Infectious diseases
Diseases of the circulatory system
Diseases of the respiratory system
Diseases of the digestive system
Diseases of the skin and subcutaneous tissue
Injury and poisoning
Dialysis
Primary health status
Child health
Health-related quality of life assessment
Note
Data sources
Reported crime
Reported offences in the East Kimberley
Contact with the police
Arrest rates in Kimberley postcode areas
Lower Court data
Demography
Jobs and economic status
Education and training
Health status
Crime
Prognosis